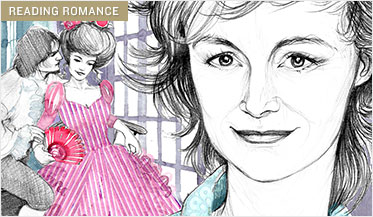 Barnes & Noble Review
features
an article entitled "Foreign Affairs"
by
Eloisa James
. Basically, it talks about the clash of cultures that can occur when a couple comes from two very different cultures and backgrounds. She uses her own life as an example - James is married to an Italian man whom she met while he was in the US for graduate school.
James highlights four historical romance books (new and old) that deal with this issue. The first one,
Mary Jo Putney
's
Loving a Lost Lord
, I hated (my review can be found on this blog); the second,
Samantha James
's
One Moonlit Night
, was absolutely fantastic and I gave five stars; the third and fourth I hadn't heard of before -
Jade Lee
's
The Dragon Earl
and
Beverly Jenkins
's
Night Song
.