MY REVIEW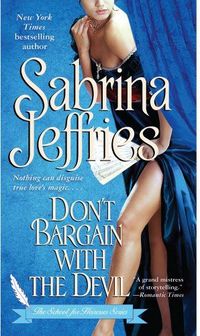 Don't Bargain with the Devil


Author: Sabrina Jeffries
Release Date:

May 26, 2009


List Price: $7.99

Read:

May 26-26, 2009


My Rating:
Don't Bargain with the Devil
is a wonderful read - I rushed out to buy it this afternoon and didn't put it down until I had finished! If you haven't read all (or any) of the other "School for Heiresses" books don't worry because this book can be read alone - though many of the characters from previous ones do reappear, so that's something to look forward to if you have. I myself only read the first book,
Never Seduce a Scoundrel
, yesterday and am looking forward to catching up on the other ones before the final one,
Wed Him Before You Bed Him
, which comes out June 23 and in which "Cousin" Michael is *finally* revealed. I've only read two books and I'm already dying to know - personally, I'm rooting for Mrs. Harris's anonymous benefactor to be the Marquess of Stoneville (Jeffries teases you at the end of this book with the possibilities - so cruel!).
BASICS:

Lucinda
Seton (20), our heroine, is outspoken, energetic, trusting, loyal, smart and friendly; she's very caring and we see this throughout her interactions and exchanges with the other characters. Lucy is searching for her place and trying to find where she belongs. Diego Montalvo (28) is the delicious hero; he's mysterious, charming, seductive, clever, and tender. He's the type of hero who is haunted and driven by his past and aside for his mentor-turned-assistant, he's quite alone in the world - without home or family.
Sabrina Jeffries combines a strong and sympathetic hero and heroine, great sexual tension, several laugh-out-loud moments, wonderful secondary characters, some *very* confusing genealogy, family secrets, a kidnapping, and the backdrops of the English countryside, a ship, and the Spanish coast for a delightful historical romance.

SUMMARY:
Lucy has recently had her heart broken by a man whom she had hoped to - and been led to believed that she would - marry. As a graduate of Mrs. Harris's finishing school, she offers to help the headmistress when her drawing teacher quits without warning, thinking that the opportunity to put her drawing skills to use will be the perfect distraction from her pain. The post will only be temporary, after which she'll return to London for the Season with her father, Colonel Seton, and her stepmother, Lady Kerr. However, once rumors spread that a certain Man of Mystery magician, Diego Montalvo, has rented the property next to the school and is planning on buying it to convert it into a pleasure garden, Lucy finds herself with a cause to take up - and a school to defend! She's just that day met the sinfully handsome Spaniard in the orchards and she knows that he cannot be up to any good ...
Diego is an illusionist, but this time his goal of building a pleasure garden is the illusion - Diego is actually there searching for the long-lost granddaughter of a wealthy Spanish marqués. Don Carlos has promised Diego the return of his family's property, Arboleda, in exchange for the return of his grand-daughter and it is an offer that Diego cannot refuse. For many years he has been seeking to regain possession of the family estate that was lost due to debts, for as a young boy he promised his dying father that he would protect and restore the family lands that had been ravaged by war. Diego has no love for the English, but traveling around their country is what he's had to do to search for the don's long-lost heir and he thinks he finally may have found the young woman, but his success is bittersweet ...
The attraction between Lucy and Diego is immediate, but they are both suspicious. Lucy has already had her heart broken and doesn't know if she should trust the mysterious foreigner who seems intent on ruining her precious school by building a pleasure garden, while at the same time focusing his attention on her and even acting in ways that go against his supposed business interests. For his part, Diego knows that he dare not get involved with Lucy; he has promised the don to return the man's granddaughter untouched and he knows the old man's future plans for her do not include a penniless count with no estates or family. How can he threaten his dream of regaining Arboleda by letting his feelings for this young English chit get out of control?
COMMENTS:
Overall I thought this was a great book; the two main characters are easy to root for and Diego had me practically sighing out loud with some of the things he says to Lucy (and the Spanish endearments that he always uses - give me a Diego anytime!). There was no mystery or villain subplot thrown in, which was a nice change - one does start to wonder why it seems true love *always* has to happen amid some serial killing spree or old family murder scandal. Jeffries does still provide us with some unlikable and/or nasty characters, so all you readers out there who love them, don't despair.
One tool that is often employed in the genre is the "I'm going to lie to you and say ___ for your own good so that you go away or don't fall in love with me or whatever" and this was definitely used by BOTH main characters several times. It got to be kind of annoying, *however* I do have to say as someone who absolutely cannot stand those books that are dominated by big misunderstandings, this was NOT one of those and
Don't Bargain with the Devil
will definitely be put on my reread shelf.
The mystery about Lucy's past - who were her real parents and how did she get to be the Colonel's adopted daughter? - was very interesting and definitely kept me hooked. You don't really know who to believe and Jeffries does a very good job with this in that the players in that whole mystery are not either evil or pure-as-the-driven-snow - instead she gives us three-dimensional characters full of regret, doubt, love, and the feeling that they thought they were doing what was right.
"THE SCHOOL OF HEIRESSES SERIES":

1)
Never Seduce a Scoundrel
- Lady Amelia Plume and Major Lucas Winter
2)
Only a Duke Will Do
- Louisa North and Simon Tremaine, Duke of Foxmoor
3)
Beware a Scot's Revenge
- Lady Venetia Campbell and Sir Lachlan Ross
4)
Let Sleeping Rogues Lie
- Madeline Prescott and Anthony Dalton, Viscount Norcourt
5)
Don't Bargain with the Devil
- Lucinda Seton and Diego Javier Montalvo, Conde de León
6)
Wed Him Before You Bed Him
- Mrs. Charlotte Harris and _________ (alias: Cousin Michael)