MY REVIEW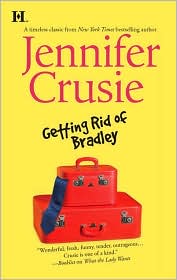 Getting Rid of Bradley
Author:
Jennifer Crusie
Release:
November 30, 1994
List Price:
$6.99


Read: October 7-8, 2009
My Rating:
Author Homepage | Book Page | Excerpt | Amazon.com
SUMMARY (from inside flaps)

High school physics teacher Lucy Savage is finally getting rid of Bradley - and his hideous green recliner. In fact, her front lawn is littered with her cheating ex-husband's belongings. Because despite standing her up in divorce court, Bradley is out of her life for good. Or so she thinks.
When her sister takes her to lunch to celebrate Lucy's single status, all their talk of a no-good louse named Bradley catches the attention of a cop - who wants to arrest the very same Bradley fro embezzlement. And Officer Zach Warren figures the lovely Lucy can lead him straight to his target.
When someone shoots at Lucy and then blows up her car, Zach insists she needs twenty-four-hour protection. What does he think her three dogs and attack cat are for? Still, he insists on moving right in to Lucy's house.
Now there's danger lurking outside and in her own kitchen, bathroom - and bedroom. Or maybe Zach, who looks like a bad boy with that shaggy dark hair and black leather jacket, is really one of the good guys, and just what Lucy needs.

MY OPINION

Getting Rid of Bradley
was a wonderful, light, breezy, and humorous book that I would definitely recommend. Reads very quickly and in a way it almost feels like a short story.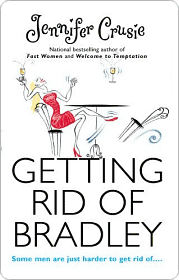 The two main characters, Lucy and Zach, are absolutely great and the type that you would have love to have as friends. Lucy is hysterical, I loved her dogs and self-reflections, and the whole blinking gag throughout the book was funny. Zach is extremely intense and energetic and is himself also hysterical; he's perfect for Lucy and they counterbalance one another very well. Their interactions were charming and Zach is so sweet to Lucy and says/thinks/does wonderful things that just made me sigh and wish for my own Detective Zach Warren.
The supporting characters were extremely well done, especially Anthony (Zach's partner) and Tina (Lucy's sister). They both made the story that much better, that much more entertaining, and that much funnier.
OTHER CRUSIE READS
Jennifer Crusie has written some great other books, including
Bet Me
(5 stars - FANTASTIC!; read my review
here
),
Manhunting
(3.5 to 4 stars), and
Anyone But You
(3.5 stars; read
this
review).