MY REVIEW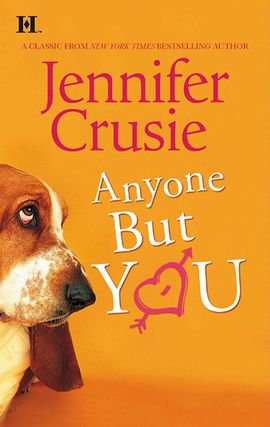 Anyone But You
Author:
Jennifer Crusie
Release:
July 31, 1996
List Price:
$13.22 (hardcover), $6.99 (mass market paperback)
Read:
September 29-29, 2009

My Rating:
Author Homepage | Book Page | Excerpt | Amazon.com
SUMMARY (from inside flaps)

~ Part basset, part beagle, all Cupid ... can a matchmaking hound fetch a new love for his owner? ~

For Nina Askew, turning forty means freedom - from the ex-husband whose career always came first, from their stuffy suburban home. Freedom to have her own apartment in the city, freedom to focus on what she wants for a change. And what she wants is something her ex always vetoed - a puppy. A bouncy puppy to cheer her up. Instead she gets ... Fred.
Overweight, smelly and obviously suffering from some kind of doggy depression, Fred is light-years from perky. But for all his faults, he does manage to put Nina face-to-face with Alex Moore, her gorgeous, younger downstairs neighbor.
Alex looks great on paper - a sexy, seemingly sane, surprisingly single E.R. doctor who shares Fred's abiding love for Oreos - but a ten-year difference in age, despite his devastating smile, is too wide a gap for Nina to handle. Ignoring her insistent best friend, some interfering do-gooders and the ubiquitous Fred - not to mention her suddenly raging hormones - Nina thinks anyone but Alex would be better bet for a relationship. But with every silver-haired stiff she dates, the more she suspects it's the young dog-loving doctor she wants to sit and stay!
MY OPINION
Crusie wrote
Anyone But You
in 1995 and it was a great read and highly enjoyable, but it felt more like a short story than a full-length novel. Her book,
Bet Me
, that I just read recently and absolutely loved, was written about 9 years later and I think she has definitely come a long way between the two.
Anyone But You
still has her trademark great characters (both main and secondary - loved Charity and especially Max, Alex's brother), wonderful humorous scenes, and great romance and chemistry. But like I said, it just feels like a short story when compared to
Bet Me
, there just isn't the same plot development, character development, detail (scenes are mentioned - Alex and Nina have dinner as a couple with each of their families, but whereas similar dinners are described in Bet Me, here they're just referenced), etc. Still a great read though and definitely worth checking out from the library - I'm just not going to be buying my own copy.