We've begun another month and summer is coming to a close! Summer seems to be the preferred release season for the historical romance industry and though June was by far the most packed, August won't be half-bad with its own decent amount of releases. Here they are, enjoy!
The Undoing of a Lady
Series:

The Brides of Fortune, 4 of 4
Author:

Nicola Cornick

Release Date:

August 1, 2009
List Price:
$7.99
ISBN:

0373773951, 978-0373773954
Author Homepage | Series Page | Book Page | Excerpt | Amazon.com
SUMMARY (product description)
Courting scandal since girlhood, free-spirited Lady Elizabeth Scarlet vows there is just one way to save her childhood friend from a loveless marriage: to kidnap him! But Nathaniel is furious. So angry that he challenges her to take their assignation to its natural conclusion and seduce him.
When her inexperienced attempt flares into intense passion, Lizzie is ruined ... and hopelessly, unexpectedly, in love with Nathaniel, the Earl of Waterhouse. Now the wild and willful Lizzie must convince Nat that they are a perfect match - in every way.
TRILOGY (with prequel): The Brides of Fortune

Black Silk

(reissue?)
Author: Judith Ivory

Release Date:

August 18, 2009
List Price:
$9.55
ISBN: 0061782122, 978-0061782121

Author Homepage | Book Page | Amazon.com

SUMMARY (product description)

Her name was Submit ... but she vowed she never would.

She was young and proper, and happily married to an elderly marquess. But sudden widowhood changed everything for Submit Channing-Downes. Only then, for the first time, did she experience true, burning, irresistible desire - in the dangerous embrace of a rogue aristocrat Graham Wessit. His touch spoke of experience, and his kiss tempted Submit to give in - igniting a tumultuous battle of wills that would ensure an innocent heart, tempting her with the promise of fiery passion and unexpected pleasure.
NOTE:
This much be a reissue, but I don't know if the book has been changed at all. I've read it and although there were some great parts, the main characters rocked, and the chemistry between them was unbelievable ... I had to give the book two stars. You can read
my Amazon.com review
if you want the full rundown, but basically the romantic relationship between them seemed almost like a side story - and a very small one. There aren't even that many pages (out of the 446) in which they're together!
Never Marry a Stranger


Author:

Gayle Callen


Release Date:

August 25, 2009


List Price:

$6.99


ISBN:

0061235075, 978-0061235078



Author Homepage | Amazon.com

SUMMARY (product description)


It's an absolute scandal when Captain Matthew Leland arrives at Madingley Court. Presumed dead in battle, his sudden appearance gives the ton quite the shock. But no one is more surprised than Matthew, because waiting for him at home is a bewitching, blue-eyed beauty - and she claims to be his wife!

Miss Emily Grey was alone in the world when a knight in shining armor came to her rescue, claimed her heart, and then disappeared. But now her little white lie, a desperate act of self-preservation, has come back to haunt her. Her husband, once a far-off fantasy, is now a flesh-and-blood man who insists she share his bed ...

Matthew has no memory of any marriage to this scheming seductress, and he's determined to expose her in every way. But a life with the exquisite Emily will prove irresistible ... and a marriage of deception will become a marriage of sweet, sweet surrender.
The Laird Who Loved Me
Series:

MacLean Curse Series, Book 5 of 5


Author:

Karen Hawkins


Release Date:

August 25, 2009


List Price:

$7.99


ISBN:

1416560262, 978-1416560265



Author Homepage | Book Series | Amazon.com

SUMMARY (product description)
Handsome Alexander MacLean enjoyed his intoxicating flirtation with lovely Caitlyn Hurst ... until she embarrassed him in front of the entire ton. Orchestrating Caitlyn's attendance at a fashionable house party, Alexander plots her downfall. But to his fury, her charm and wit thwart his plan to ruin her.
Her disastrous London season left Caitlyn filled with regret and determined to make things right with Alexander. She's delighted to find him at the house party to which she's unexpectedly invited - but it's clear that the sexy, arrogant Highlander hasn't forgiven her. So Caitlyn comes up with a bold scheme, proposing an unusual contest drawn from legend: each must complete a set of "mythic" tasks. If Caitlyn succeeds, Alexander promises to relent and forgive her previous rash behavior; if he succeeds, she will join him in his bed! But can Caitlyn force Alexander to give up his quest for vengeance without giving up her heart in return?
SERIES: The MacLean Curse Series
Royal's Bride
Series:

As Yet Untitled Trilogy, Book 1 of 3


Author:

Kat Martin


Release Date:

August 25, 2009


List Price:

$7.99


ISBN:

077832642X, 978-0778326427



Author Homepage | Book Page | Excerpt (scroll down) | Amazon.com

SUMMARY (product description)
Though he is a titled nobleman, Royal Dewar is singularly unlucky ... forced to choose between his soul mate ... and his salvation.
After years abroad, Royal has returned to Bransford Castle to find his father dying and the family treasury nearly empty. Then the old duke wrests a final promise from his guilt-ridden son: that Royal will marry heiress Jocelyn Caulfield and restore the estate to its former glory. However, it is not his fiancee who quickens Royal's pulse, but rather her beautiful cousin Lily Moran.
Penniless Lily knows that nothing can come of their undeniable attraction - but there
is
a way she can help Royal. Enlisting some questionable characters from her past, Lily concocts an elaborate ruse to recover some of the Bransford fortune from a notorious confidence artist. As the dangerous scheme unfolds, Lily and Royal are thrown together in pursuit of the very thing - money - that keeps them apart ...
SERIES
Royal's Bride (August 2009)

Reese's Bride

(January 2010)

Rule's Bride

(May 2010)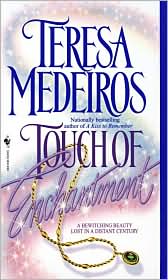 Touch of Enchantment

(reissue?)

Series:

The Lennox Family Magic Series, Book 2 of 2


Author:

Teresa Medeiros


Release Date:

August 25, 2009


List Price:

$5.99


ISBN:

0553590138, 978-0553590135



Author Homepage | Book Page | Excerpt | Amazon.com

SUMMARY (product description)
When cool-headed scientist and inept witch Tabitha Lennox inherits his mother's mysterious amulet, she doesn't expect to be hurled seven centuries into the past - directly into the path of a surly but gorgeous knight on a quest for vengeance.
Sir Colin of Ravenshaw finds himself beguiled by this strange woman who smells like baby shampoo and introduces him to the culinary delights of the Big Mac. Although he is honor-bound to burn her at the stake, Colin soon discovers it is his own heart that is aflame for this enchanting woman he must not love, but cannot live without.
SERIES: The Lennox Family Magic Series

Breath of Magic (March 1996)
Touch of Enchantment (June 1997, August 2009)
NOTE:
I still haven't read
Breath of Magic
and was hesitant about reading either, even though I enjoy Medeiros books - I don't normally read paranormal/time travel books so this was a bit of a shift for me, but one I am glad I made. This book is pure enjoyment and I highly recommend it! Had several laugh-out-loud moments that had my family ask me what
on earth
it was that I was reading :-). You can read my whole review in an earlier post I made on this blog.
With Seduction in Mind
Series:

Girl-Bachelor Series, Book 4 of ?


Author:

Laura Lee Guhrke


Release Date:

August 25, 2009


List Price:

$6.99


ISBN:

0061456837, 978-0061456831



Author Homepage | Book Page | Behind the Scenes | Excerpt | Amazon.com

SUMMARY (product description)
~ A thoroughly modern woman ... ~
Daisy Merrick has to earn her living, but she keeps getting the sack. When her rash tongue costs her yet another job, the feisty, outspoken girl-bachelor is undaunted, and she comes up with a plan that could give her a future beyond her wildest dreams. There's only one problem. Her succeeds depends on a man, the most infuriating, impossible, immovable man she's ever met.
~ A most notorious man ... ~
Sebastian Grant, Earl of Avermore, is England's most famous author, but when writer's block steals his creativity, Sebastian becomes more well-known for his notorious reputation than his work. When Daisy arrives on his doorstep, hired by his publisher to help him write his next book, Sebastian has no intention of cooperating. The provoking, fire-haired beauty stirs his senses beyond belief, and when collaboration forces them together at his country home, Sebastian knows he has only one way out. Seduction.
SERIES: Girl-Bachelor Series

And Then He Kissed Her (February 2007) - fantastic!!

The Wicked Ways of a Duke (December 2007)

Secret Desires of a Gentleman (September 2008)

With Seduction in Mind (August 2009)

?